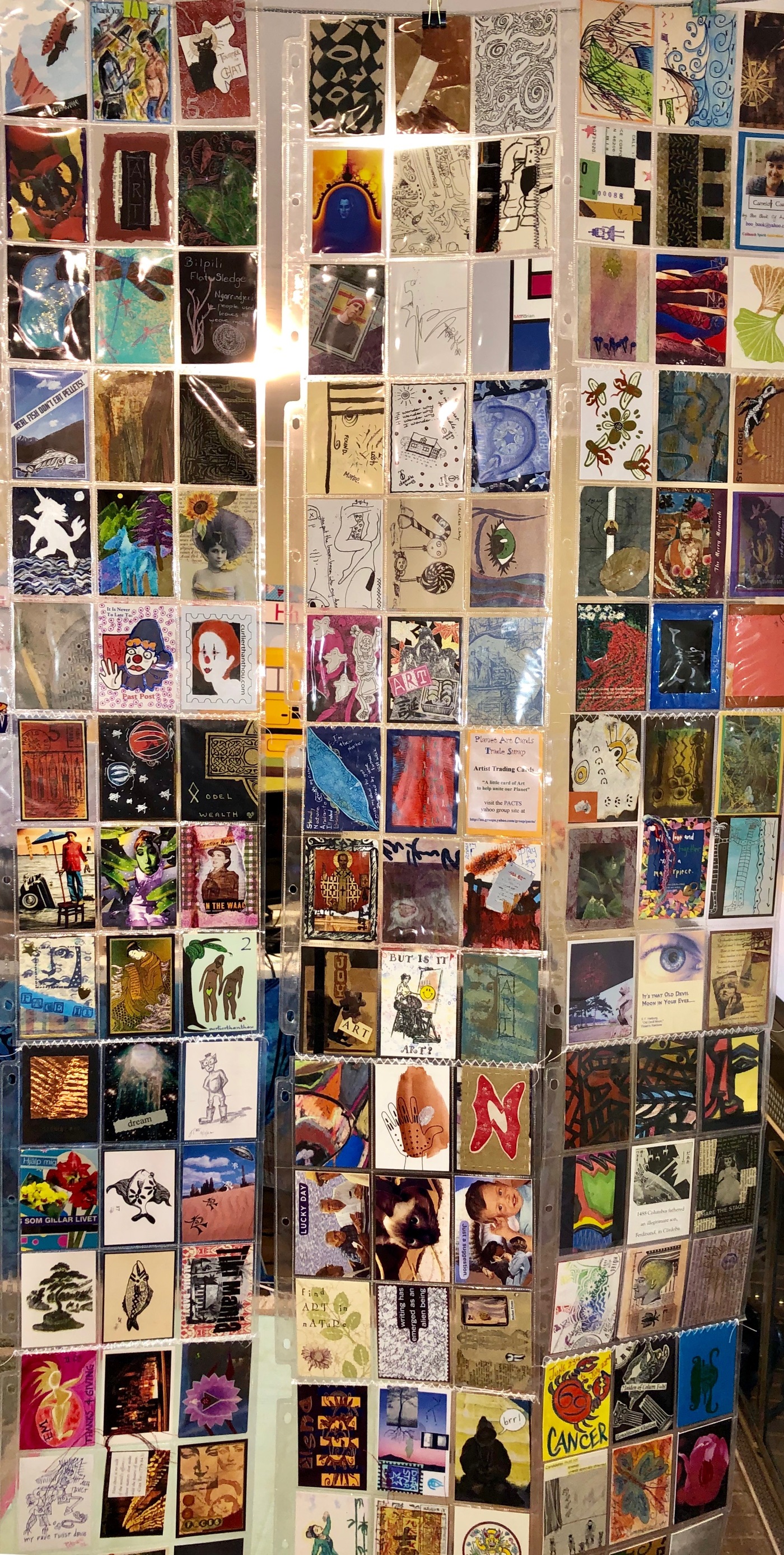 . . . Artist Trading Cards . . .
COMING June 6-9, 2019 at Apogea, Colorado's Regional Burning Man
An Exhibition and interactive art event, A Wall of Artist Trading Cards
make one/take one

What are Artist Trading Cards? Wikipedia says:
In 1996, an artist named Stirnemann began making small artworks the size of commercial trading cards. An exhibition of 1200 of Stirnemann's cards ran at his second-hand bookshop and gallery INK.art&text in Zurich, Switzerland between 23 April and 31 May 1997. The exhibition ended with a trading session.[2] The ATC project was intended to allow people from different backgrounds to participate in an ongoing art project, which was not part of the art market. Selling or buying ATCs clearly contradicts the initial idea. Instead, people would meet at trading sessions and exchange their art work in a democratic face to face situation. Anybody can participate in the project and all techniques are allowed.[3] ATCs are produced in various media, including dry media (pencils, pens, markers, etc.), wet media (watercolor, acrylic paints, etc.), paper media (in the form of collage, papercuts, found objects, etc.), or even metals, fiber, wax and other materials.
A few weeks after the first ATC exhibition and trading session in Zurich, the Canadian artist Don Mabie adopted the idea and showed artist trading cards at the Alberta College of Art and Design in Calgary, Alberta, Canada.[4] In September 1997, a trading session was organized at the New Gallery in Calgary. Today, there are regular trading sessions in more than 30 cities in Europe, Canada, the US and Australia.[5] The Zurich and Calgary trading sessions are still held on a monthly basis.[6]
The core purpose of the ATC concept was a free exchange between the participants to establish a rapport (collaborative performance). In order to allow for profit gain and non artist collection, both the concept of a mutual exchange and the name of the cards were altered (while the size was kept). In 2004, a first ATCs offshoot was organized on eBay by Lisa Luree (eBay name bone*diva).[23] To circumvent intellectual property rights, she called it "Art Cards, Editions and Originals" (ACEOs).[24] It was the beginning of what an eBay staff member two years later called "eBay's home grown art movement".[25] In 2005, Jillian Crider started the Small Format Art Group on eBay, which allowed for works "no more than 14 inches in any one direction".[26] Whereas ATCs are rather shown in museums and special exhibitions (usually accompanied by a trading session), ACEOs are sold on auction sites, collected privately and reproduced in craft tutorials or other publications.[27][28]